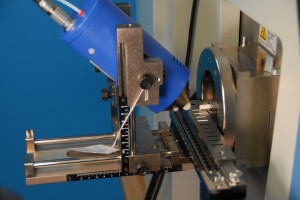 Principle
In DART-MS the sample is ionized at atmospheric pressure immediately outside the entrance of an LC/MS-type mass spectrometer.
The sample molecules  are ionized by a bombardment of exited He-atoms, via the ionization of water molecules in the air and subsequent proton transfer to the sample molecules, the result is a soft chemical ionization of the sample molecules.
The DART ion source is an alternative to electrospray or APCI, and gives a possibility for direct analysis without a preceeding LC system. The limitation of the system is the lack of a chromatographic separation of the sample molecules.
Measurements in few seconds
When using DART for the ionisation of the sample, the sample composition (or rather, the molar weights represented in the sample) is directly shown in few seconds. This is the main asset of the system, the really fast data collection, typically in few seconds. The system is therefore well suited for screening of a high number of samples /day or for the synthesis lab test of intermediates.
Web-baseret software
DART is administered by a simple web-based software, built into the DART controller. This means that no installation of a software package is necessary, and there are no syncronization necessary between the DART and the mass spectrometer.
MSCi experience
DART is developed by the american company IonSense. MSCi is the sole distributor in Europe for IonSense DART products
MSCi has over a seven months period had Tore Vulpius based at the IonSense headquarter, to gain experience with the product.
If you are interested in the system(s), contact Mátyás Ripszam/Tore Vulpius.
Link to the IonSense-homepage here.