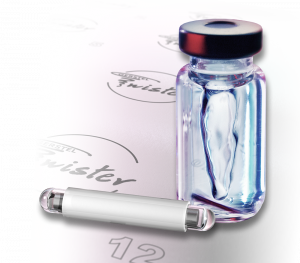 GERSTEL Twister anvendes til analyse af organiske forbindelser fra vandige matricer ved Stir Bar sorptive Extraction (SBSE).
Metoden er hurtigere end konventionel væske/væske-ekstraktion, kræver stort set ikke manuel arbejdstid eller opløsningsmidler og er samtidig op til 1000x mere følsom end SPME.
GERSTEL Twister ligner en konventionel magnetisk omrørermagnet, men adsorberer og koncentrerer de organiske komponenter på den adsorberende belægning.
Det gør ingen forskel, om solventet er drikke- eller spildevand, kropsvæsker eller drikkevarer. Efter ekstraktion kan Twister vaskes i UHQ vand for at fjerne ikke adsorberet materiale. Herefter overføres den direkte til termisk desorption med TDU eller TDS ved GC eller back extraction ved LC analyse (se nedenfor).
Twister faser:
PDMS Twister
EG/Silicone Twiste
Phase

Polydimethylsiloxane (PDMS)

Polydimethylsiloxane (PDMS) / Ethylene glycol (EG) – copolymer on an inert metal grid for mechanical stabilization

Enrichment

Unspecific binding of apolar compounds




log(Kow) > 4




The polarity range can be increased by adding salt

Unspecific binding of apolar compounds, additionally specific binding of polar hydrogen bond donors, e.g. phenols

Application examples

Pesticides in water




PAH in marine tissue




2,4,6-TCA in wine




Flavor compounds in food…

Flavor compounds in beverage
GC analyse
Efter ekstraktionen kan Twister overføres direkte til termisk desorption i TDU eller i TDS. Dette betyder, at den termiske desorption, kromatografi og efterfølgende påvisning af de organiske forbindelser adsorberet på PDMS coating udføres direkte fra Twister.
LC analyse
Ikke flygtige eller termisk ustabile forbindelser kan ekstraheres fra Twister af TwisterBackExtraxtion (TBE) og efterfølgende analyseres ved LC eller LC/MS. Også denne proces, tilsætning af solvent, ventetid samt injektion er, via Maestro, fuldt automatiseret.
Fordele
Op til 1000 gange lavere detektionsgrænser end SPME
Kvantitativ, med stort lineært interval
Flere prøver kan ekstraheres samtidigt
Kræver minimal tid og arbejdskraft
Termisk desorption og GC/MS/AED-analyse udføres automatisk
Anvendelsesområder
Twister har vist sig anvendelig på mange forskellige anvendelsesområder, i essens- og parfumeindustrier, påvisning af miljøskadelige stoffer som polyaromatiske kulbrinter og pesticider. På grund af sin mekaniske stabilitet kan Twister også anvendes til udendørs applikationer(passiv sampling) og sendes nemt sendes t i 2mL vials.
Applikationer
Fødevarer, især drikkevarer
Aroma og parfume
Miljøanalyse af vand/spildevand/luft
Biomedicin, herunder kropsvæsker
Kvalitetskontrol
Residualanalyse