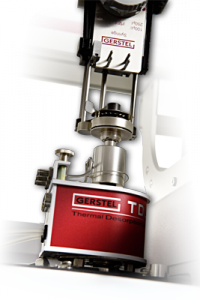 A flexible solution
The Thermal Desorption Unit (TDU) is a flexible automated solution for thermal desorption and thermal extraction. The difference between TDS and TDU is:
TDS: operates through a horizontal separate autosampler with 20 position tube holder, LARGE capacity of TD tubes (largest of all existing systems).
TDU: operates through a vertical autosampler integrated into MPS 2, with up to 196 position tube holder. All types of material may be thermally desorbed, liquids, semi-liquids, solids, Twisters and TD tubes.
Several techniques are supported by the TDU:
Stir Bar Sorptive Extraction (SBSE) using the GERSTEL Twister®
Dynamic Headspace (DHS) based on standard headspace vials
Air sampling onto adsorbent tubes combined with thermal desorption
Thermal extraction of solid samples placed in fritted TDU tubes (ATEX option)
Thermal extraction of liquids placed in µ-vials inside the TDU (ATEX option)
Direct introduction and thermal extraction of liquids such as standards
Automated Pyrolysis of liquid and solid samples using the PYRO module(option)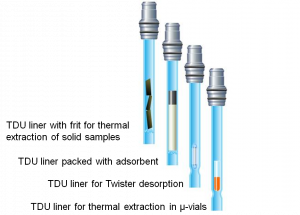 The TDU also supports manual operation and it can be removed in minutes to enable direct liquid sample introduction into the GERSTEL Cooled Injection System (CIS), a PTV-type universal GC inlet.
When configured with the GERSTEL MultiPurpose Sampler (MPS), up to 196 samples can be analysed in one automated sequence using one or more methods. The MAESTRO software combined with the Agilent ChemStation/MassHunter controls the complete process from sample introduction through thermal desorption to GC/MS analysis with one method and one sequence table ensuring efficient and error-free operation.