Solvent Filling Station SFS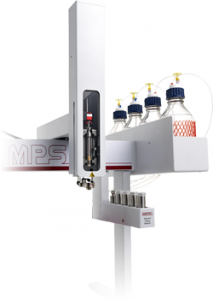 Automated filling of solvents
For running automated high throughput applications overnight or over the weekend, or for extensive cleaning procedures between samples, large volumes of solvents may be available. For this purpose GERSTEL developed the Solvent Filling Station SFS for the MultiPurpose Sampler MPS.
The SFS has four one liter solvent reservoirs. Solvents may easily be loaded at the filling station which also provides an additional waste position connected to a large waste container.
Altogether 3 solvent filling stations may be added to the MPS, with a total of 12 solvents.
Applikations