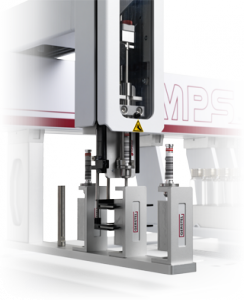 Automated SPME fibre exchange
Solid Phase Micro Extraction (SPME) is a widely used technique for extraction and concentration of VOCs and SVOCs combined with GC/MS. SPME is especially useful in the food, flavor and beverage industries and for environmental monitoring.
Until now, a limitation has been the lack of automation of the fiber exchange.
The GERSTEL Multi Fibre Exchanger MFX is a unique automated fibre exchange option for the GERSTEL MultiPurpose Sampler (MPS). MFX enables automated SPME analysis of samples using different fibres in one automated sequence, covering a wide range of fibre and analyte polarities. MFX is an excellent tool to speed up method development, or for example a series of air-monitoring fibres using passive sampling. SPME Multi-Fibre stations are available for three fibres or for 25 fibres.
Ready-to-use SPME Fast Fit Fiber Assemblies (FFA) for the GERSTEL MFX system may be purchased directly from Gerstel.
GERSTEL Multi Fibre EXchange offers:
SPME fibre exchange in regular intervals for automated SPME analysis over-night and during the weekend
Fast and flexible SPME method development
Automated processing of SPME fibres used for passive sampling
Automated extraction of samples using different SPME fibres
Mechanical stress during fibre exchange is minimized for extended fibre life
With accessories from Supelco®, the automated fibre exchange needles are easily used for passive sampling(SPME FFA Field Sampler), and may later be transported in a fully protected mode.